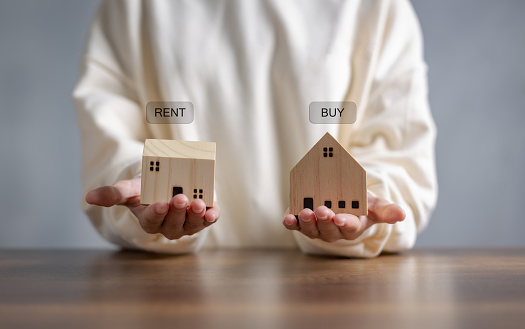 Dilemma of Renting versus Buying
Although it may come as a surprise to many, recent data released by the AFR showed that for the majority of first home buyers, it is cheaper to buy than rent. A survey of 1500 first home buyers revealed that 42% of buyers pay less on their mortgage than it would cost them to rent, with 26% of survey respondents exhibiting a roughly equivalent cost. Even in capital cities, there are significant cost differentials between buying and renting in certain areas. For example, on average it is $1,001 cheaper to buy a house than rent in Coombs, ACT and $1,413 cheaper to buy an apartment than rent in Glebe, TAS. When I first came across this data, I was quite surprised and left wondering 'how is this possible?'. Naturally, I assumed owning a real estate asset would come at a premium to renting. Ultimately, this phenomenon can likely be predominantly attributed to ultra-low mortgage rates driven by the RBA's cash rate being set at 0.10% since November 2020. Although, the balance will most likely begin to shift back into the favour of renting being the cheaper option again soon. With the RBA beginning to adopt more hawkish monetary policy and forecasts of the cash rate being as high as 1.5% in mid-2023, mortgage costs will begin to rise – decreasing the affordability of breaking into the housing market for first-home buyers. This trend can already be observed with all four of the 'Big 4' banks lifting fixed rate mortgages for owner occupiers in 2022 – ranging from 0.2% to 0.4% increases. Although mortgage costs continuing to increase over the next few years is almost inevitable (given the RBA follows through with their forecasted rate hikes), the tangible effect on residential housing prices remains to be seen – with experts divided on both sides of the spectrum.
DISCLAIMER: No Financial, Property Buying, Legal, Taxation or Accounting Advice The Listener, Reader or Viewer acknowledges and agrees that: Any information provided by me is provided as general information and for general information purposes only; I have not taken the Listener, Reader or Viewers personal and financial circumstances into account when providing information; I must not and have not provided legal, financial, property buying, accounting or taxation advice to the Listener, Reader or Viewer; The information provided must be verified by the Listener, Reader or Viewer prior to the Listener, Reader or Viewer acting or relying on the information by an independent professional advisor including a legal, financial, taxation, accounting and property buying; The information may not be suitable or applicable to the Listener, Reader or Viewer's individual circumstances; I do not hold an Australian Financial Services Licence as defined by section 9 of the Corporations Act 2001 (Cth) and we are not authorised to provide financial services to the Listener, Reader or Viewer, and we have not provided financial services to the Listener, Reader or Viewer.